Uncollected rubbish 'attracting flies'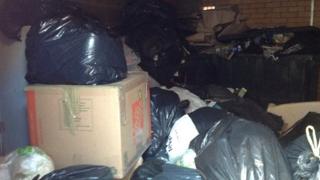 Residents living in a block of flats in South Gloucestershire have said their homes are "full of flies" because of the state of the communal bin area.
They say the bins behind the Charlton Boulevard development in Patchway have not been emptied for a month.
South Gloucestershire Council said it had been unable to get to the bins because of the amount of rubbish.
Bovis Homes said it had arranged for specialist cleaners to go in. It then plans to put locks on the bin store.
"There does appear to have been an unusually high amount of rubbish dumped in this area recently, meaning the rubbish has not been segregated properly and therefore uncollected," said a Bovis spokesman.
Alicja Balec, who lives in one of the flats, said the situation was "absolutely horrendous".
"You've got flies at home in every single room," the mother-of-one said. "There's food in there and babies' nappies... so you can just imagine what these flies are feeding on and bringing back to the properties."
South Gloucestershire Council said it had cleared waste several times "as a gesture of goodwill". It said the flats' management company was responsible for disposal.
"We understand that the managing companies will carry out the work this week and Sita (the council's waste contractor) will empty the bins as soon as this has been done," a council spokesman said.