Bristol RPZ: Clifton Village scheme approved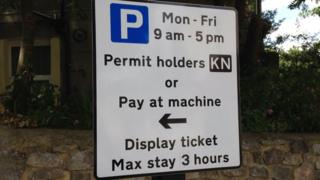 Plans for a further residents' parking zones (RPZ) in an area of Bristol have been approved by the council.
Mayor George Ferguson said the new scheme in Clifton Village followed "widespread consultation" with businesses and residents.
The proposal includes a new park and ride service, a three-hour maximum parking stay and extra business permits.
The scheme is expected to be launched in October but has faced opposition.
Some businesses staged protests over the scheme with one hiring a tank and driving it through the streets.
In April, a mock funeral was held and a coffin was marched from Clifton to City Hall.
Former Radio 1 DJ Tony Miles who has publicly criticised the scheme said: "Concessions have been made, but the mayor has still not addressed how small businesses will survive, as there will not be enough permits for their staff to park in the area."
The parking zone is part of a city-wide scheme to deter commuter parking on residential streets.
Mr Ferguson said: "There's been some strong debate in Clifton which plays a vital tourism and commercial role, but officers have balanced the various demands and made appropriate adjustments.
"I believe they have come to a conclusion which serves everyone as best as possible."
He added that the scheme will be monitored for six months to "flush out" any problems.
Clifton Village will be the seventh of 12 new schemes in the city to go into operation.