Broadcaster Trevor Fry's life celebrated at Clifton Cathedral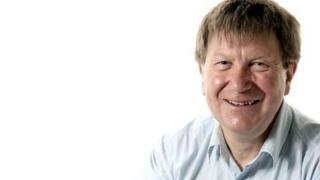 Hundreds of people packed Clifton Cathedral to celebrate the life of BBC Radio Bristol presenter Trevor Fry, who died at home last month, aged 68.
Mr Fry joined BBC Radio Bristol in 1997 and presented the Sunday Morning Breakfast Show and the Late Show.
His shows were heard around the South West, including Gloucestershire, Wiltshire, Somerset, Devon and Cornwall, and the Channel Islands.
Peter Price, former Bishop of Bath and Wells, was one of many to pay tribute.
'Loved every minute'
He said although Trevor was not, "in the strict sense of the term a religious man", he was a "man of faith and "a man for many faiths".
"One of the great things he contributed was an incredible capacity to get people talking and listening to each other."
Among the hymns sung were Jerusalem, Praise my Soul and the Lord is my Shepherd.
The service concluded with the Bristol Easton Band of the Salvation Army playing Nimrod from Elgar's Enigma Variations, and a poem written and read by Mr Fry from his last Sunday show.
Trevor, who died on 20 June, had wanted to work for the BBC since he was seven-years-old.
He started his career on hospital radio before moving to Bristol's first commercial station, Radio West in 1982.
He said he loved every minute of his working day and life - and in 2010 won a Radio Academy Award for his tribute programme to the World War One veteran, Harry Patch.
Highlights of the service are due to be broadcast on BBC Radio Bristol on Monday evening during the Late Show which starts at 22:00, and afterwards on the iPlayer.