Ashton Vale land dispute nears end with town green plan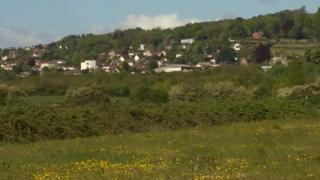 A town green application in Bristol has been approved, paving the way to resolve a long-running planning dispute over the land at Ashton Vale.
The application, approved by Bristol City Council, was set up by Bristol City Football Club and town green campaigners to resolve the dispute.
It has been mooted that one half of the land could be used for a sports academy and the other half as a town green.
The decision may still be challenged as part of the standard planning process.
Although a sports academy has been suggested, this idea has not been officially submitted.
The club was given permission to build on land at Ashton Vale in 2009, but this was blocked by protesters who bid for it to be designated a town green.
This resulted in a legal planning battle to block the football development from going ahead.
Due to the long-running legal wrangles, Bristol City decided to redevelop its Ashton Gate stadium instead of moving to Ashton Vale.
Both town green campaigners and Bristol City have welcomed the council's decision.