Worry over rise in pregnant smokers in Bristol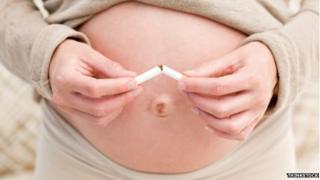 Healthcare bosses in Bristol have admitted it is becoming harder to get pregnant women to stop smoking.
A meeting held at Bristol City Council on Thursday has revealed a steady rise since 2010 in smoking rates.
Stop Smoking commissioner Wendy Parker said: "Smoking is an addiction to nicotine in the cigarette and during pregnancy that addiction increases."
Shock tactics and financial incentives are some of the ideas being explored to help curb the rise in pregnant smokers.
'Expensive plan'
Figures from 2010 show 10.4% of expectant mothers smoked throughout their pregnancy but this has risen to 12.3% in the latest set of figures for 2012-13.
Despite the rise, it is still below the national average in England of 12.7%.
The shock tactics have been used in Rotherham where expectant mothers are shown a computer programme which shows the graphic effects of smoking on an unborn baby.
This is done with support from the midwife who also helps the woman quit the habit.
Ms Parker added: "It is an expensive plan to put in place but we are open to it.
"They (the midwives) are keen but one issue is the relationship with pregnant women which can be difficult."
A draft report is set to go before the council's Health and Wellbeing Board on 6 August.