Designers invited to submit ideas for new Bristol arena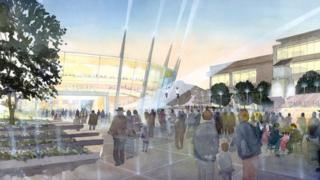 Designers from around the world are being invited to submit ideas for a new £90m arena for Bristol.
The 12,000-capacity indoor arena, to be built on a site close to Temple Meads railway station in the centre of the city, is expected to open in 2017.
Bristol's Mayor George Ferguson said the arena was "key" to the city's future.
Companies wishing to run the new venue have already been invited to bid for a 25-year lease.
Colin Skellett, chairman of the West of England Local Enterprise Partnership, said: "Getting the design right is really important: we need an arena that fits with its environment, inspires its visitors and becomes an iconic image for the city."
Bristol City Council is working with the Royal Institute of British Architects (Riba) to select the winning design.
Buildings which have resulted from previous Riba competitions include the Welsh National Assembly's Senedd in Cardiff, the Hepworth Wakefield gallery in Wakefield and Sage Gateshead, the music venue on Gateshead's quayside.
The closing date for entries is 18 September.