Banksy's Grim Reaper cut from ship ahead of museum loan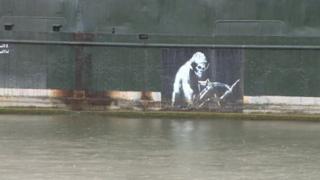 An image of the Grim Reaper by street artist Banksy has been cut from the side of a floating music venue ahead of going on loan to a Bristol museum.
It was painted on the side of the Thekla about 10 years ago just above the waterline on the ship's steel hull.
Before going on display at the M Shed it will be assessed by a conservator to prevent further damage from the elements, a spokesman for Thekla said.
The Thekla is currently in dry dock for maintenance work.
"It is great that we have been able to work with Bristol City Council to display this iconic Bristol artwork," said George Akins of DHP Family, Thekla's owner.
"We really wanted to make sure, that although it is being removed from its intended setting, people could still see it for free and will now get a better view of it."
Thekla was originally known as the Old Profanity Showboat following its move to Bristol in 1983 and conversion into a theatre by artist and musician Vivian Stanshall.
The venue is normally docked between Prince Street Bridge and Redcliffe Way.