Bristol City Council submits plan to refurbish City Hall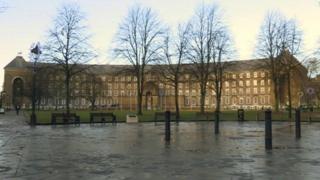 The local authority in Bristol has submitted plans to refurbish its City Hall headquarters to cut costs.
Bristol City Council wants to revamp the Grade II-listed building in order to accommodate more staff and make it cheaper to run.
The plan is for the majority of workers to be located in City Hall and the authority's Temple Street site by 2018.
Subject to a successful Listed Building application, refurbishment work is proposed to start in spring 2015.
Mayor George Ferguson said the interior of City Hall is dated and does not lend itself to "contemporary ways of working".
He said: "The refurbishment will make it possible for many more council staff to work there more efficiently, help us reduce the inefficient occupation of several other buildings and benefit our carbon footprint."
The ground and first floors will be unchanged to "preserve the heritage of the building".
Other floors will be remodelled with open floor-plans and "flexible work areas".
The exterior of City Hall will undergo some remedial works but remain largely unaltered.
City Hall was formally opened in 1956 by the Queen.
The council purchased its 100 Temple Street premises near Bristol Temple Meads railway station for £18m in March last year.