Dust pollution testing to begin in Avonmouth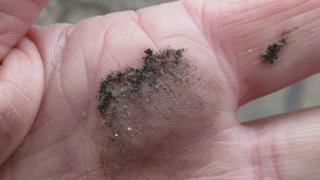 Air quality in an area of Bristol is to be tested after complaints about dust pollution.
Some residents in Avonmouth say they are regularly blanketed by "toxic metallic dust" from nearby works.
They say the problem has been going on for years and there has been no rigorous testing since 2006.
A monitoring station will be set up next week and will run for three months, a Bristol City Council spokesman said.
Campaigners believe the dust is blown in from the nearby docks and a number of industrial units in the area.
They said three months of monitoring in residential areas of the suburb would not be long enough and have called for the testing to be continuous, with the results made publically available online.
'Never been as bad'
Chris Chard, who has lived in the area for nearly 30 years, said the problem was getting worse.
"It's never been as bad as it has in the last four or five years. It's got so bad I won't even sit in my garden anymore.
"It's wood dust, metal dust....animal food grain, you name it we've got it."
Bristol City Council said it took concerns from residents "very seriously" and its environmental health team would begin monitoring at a site in Avonmouth from 18 August.
"The operation will run for three months after which the results will be analysed," he said.
"The Environment Agency has already started a separate monitoring operation in another part of the docks,"
An spokesman for the Environment Agency said it had set up a gauge which collects dust particles from the four compass points.
He said this would establish whether any of the "few companies" it monitors in the area - those who must comply with environmental permits - was the source of the dust nuisance.
"We have also deployed a mobile monitoring facility to help us understand the source and nature of [the] dust."