Bloodhound supersonic car model unveiled in Bristol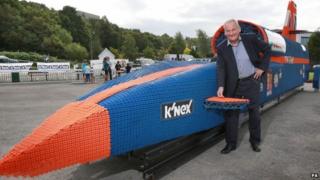 A life-sized model of the Bloodhound supersonic car (SCC) currently being assembled in Bristol has been created using more than 380,000 toy pieces.
The 44ft long (13.5m) replica car was constructed by a Royal British Legion Industries team of ex-services personnel and enthusiasts using K'NEX.
K'NEX is a construction toy system that uses interlocking plastic rods.
Experts at the National Physical Laboratory who measured the model said it mirrors Bloodhound SCC's dimensions.
Both the model and Bloodhound SCC are 13.382m long, 2.44m wide and 3.874m high.
It is claimed that the dimensions exceed those of the current record for the world's largest K'NEX structure, a T-Rex in the US Space and Rocket Centre in Huntsville, Alabama.
The model car was unveiled by Richard Noble, the Bloodhound project director and former land speed record-holder.
"Bloodhound aims to inspire the next generation of scientists and engineers," he said.
"If 164 people can build an amazing model like this in a matter of weeks, imagine what a generation can achieve in their lifetimes."
At full speed, Bloodhound SSC will cover a mile in 3.6 seconds.
The car will undergo UK runway testing at speeds of up to 200mph (320km/h) after its roll-out next summer at the Aerohub in Newquay, Cornwall.
It will then be taken to South Africa to begin high-speed testing, with the target of reaching 800mph, before returning to the UK for experts to review its data.
In 2016, the Bloodhound team will return to South Africa with the aim of reaching a speed of 1,000mph.