Bristol mayor George Ferguson 'should sort hospital parking'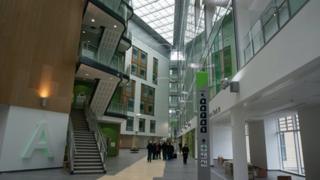 The mayor of Bristol is facing calls to take action over parking problems at the new Southmead Hospital.
The £430m building opened in May but it does not have enough spaces for staff, patients and visitors.
Many have taken to parking all day on streets around the hospital, including the roads around Horfield Common.
Mayor George Ferguson said additional spaces were planned on site but these would not be fully available until next autumn.
This would bring the total number of spaces to 2,700.
'No jurisdiction'
"People of Southmead and Horfield are suffering as a result of the greater than anticipated influx of cars," he said.
"This is a problem that's been created by a hospital. I'm trying to work with them to pick up the pieces."
North Bristol NHS Trust said it does not have jurisdiction over parking on the public highway.
"If cars are parked illegally we would urge residents to contact the authorities." a spokesman said.
Elizabeth Pile, who runs a catering van close to Horfield Sports Centre, is calling on Mr Ferguson to put a two-hour waiting restriction on nearby roads.
"We've got this lovely park on the common and the mums and dads can't come in the day because cars are parked there all day," she said.
Councillor Claire Hiscott said Mr Ferguson should address the "out-of-control parking situation".
"What was once a thriving, buzzing part of Horfield now resembles something of a ghost town," she said.