Bristol pedal car race cancelled due to lack of funds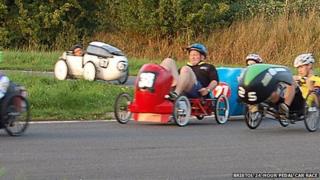 A 24-hour charity pedal car race in Bristol has been scrapped because of a lack of cash, the organiser has said.
The event, a revival of a tradition during Bristol University's Rag Week from the 1950s to the 1980s, was due to take place on 11 and 12 October.
Organiser Rob Harris said it costs about £50,000 to stage and the cash was not raised early enough.
He said he was disappointed to have to cancel the race, but was in a "very good position" to hold it next year.
'Better shape'
The event was raising money for local charities including Wallace and Gromit's Grand Appeal, Brunswick Square-based Tree Aid and St Peter's Hospice.
Mr Harris said: "I had the inspiration last September and was working very much on my own, taking time off work.
"By the time we were working our way into August I realised I'm not going to get any more corporate teams entering, I'm not going to get the sponsorship in time for the race in October.
"I needed to cover costs for a start. I can't fund this out of my own pocket.
"We'll be in a much better shape this time next year and we will be in a strong position."