Toxic blue-green algae found in Portishead lake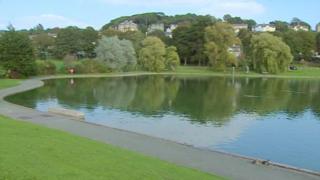 People have been warned to stay away from a lake near Bristol after toxic blue-green algae was found in it.
The algae, which can cause skin rashes and illness if affected water is swallowed, has been detected at the Lake Grounds in Portishead.
Warning signs have been erected and people are advised to avoid the water and keep their pets away.
North Somerset Council said it was liaising with the Environment Agency and Defra about the problem.
As well as rashes, the toxins the algae produces can cause blisters, joint and muscle pain, diarrhoea and vomiting.
Spokesman Nicholas Yates said there was "quite a lot" of algae in the water.
"Last month, we had some reports of dead birds. We carried out some tests on the water which at that stage didn't show anything untoward," he explained.
"We've recently had some more reports of birds and, as a precautionary measure, we've put some signs up there advising people not to go into the water and not to let their pets swim in it while we carry out further tests."
Mr Yates said he hoped to get the tests on the water back "as soon as possible" before taking "appropriate" action.
The algae is naturally-occurring, but in high concentrations it can multiply to cause blooms which then release toxins.