Paralysis-fear dancer Jack Widdowson's dad sets up clinic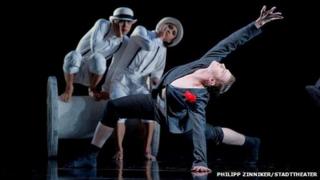 A clinic for injured dancers is being opened in the home city of a ballet dancer who feared a street attack had left him paralysed.
Jack Widdowson, from Bath, had his neck broken in Cardiff in 2011, but has since made a full recovery.
His father Julian, went on to set up the Dance Again Foundation, which is funding the specialist clinic at the Royal United Hospital (RUH).
Mohammed Ali Mohamoed was jailed in June last year for the attack.
Three months later, his 13-year sentence was increased to an 18-year at the Court of Appeal.
Jack was 19 when he was attacked on a night out and told he might never dance again. But since his recovery in 2012, he has performed all over the world.
'Immense mental strength'
The new clinic means dancers from the west of England will not need to travel to London for treatment.
Dr Julian Widdowson, who works in sports medicine, said: "We wanted something in the South West - we had tried to access help for dancers for specific medical rehabilitation and there was very little out there.
"It was just fortunate Dance UK was setting up the National Institute of Dance Medicine and Science so [we] worked together and they set up the one in London and we've worked hard down here to produce one of the hubs for England.
"The immense mental strength and physical fitness that [Jack] had in place to get him back to where he is now was phenomenal.
"It's nothing short of a miracle someone with those injuries can get back to the professional level again."
Helen Laws, manager at National Institute of Dance Medicine and Science, said: "A couple of years ago we set up our first NHS dance injury clinic in London.
"We've seen over 400 dancers and the demand is really high, the waiting list is going up.
"Serendipitously, Julian launched his Dance Again Foundation at the same time as we were launching that and we were introduced."