St John's Hospital Bath creates £4m charity loan fund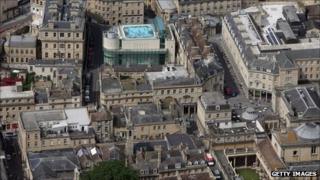 A Bath charity has set up a £4m lending fund aimed at backing projects run by local not for profit organisations.
St John's Hospital opted to help after its research showed many local groups were struggling to get grants or loans.
Head of Social Investment, Sue Cooper said the loans from £25,000 upwards would help these groups "expand in a way that makes them more resilient".
The charity has been giving community grants for 20 years but it is the first time this lending programme has run.
Expanding charities
St John's Hospital has made its own money through its portfolio of commercial and resident properties based in the centre of Bath.
This money is used to support its own charitable work running almshouses for elderly and vulnerable people.
Interest will be added to the loans, but the charity has said this will be "at the lowest possible percent" as the primary aim is to help groups with social, cultural and environmental aims.
The charity also said the social investment market was growing rapidly in the UK.
Its research has shown the amount loaned to social enterprises or charities across the UK has risen to £202m in the last two years.
This money has created or safeguarded 210 UK social ventures, the charity added.
"These are loans that will make a considerable difference to the impact enterprises can make on the local community by enabling them, for instance, to purchase equipment, expand premises or employ more people," added Ms Cooper.
The type of charities or social enterprises that would benefit are those with a turnover too large to qualify for a grant but could not get capital to maintain services.
---
St John's Hospital provides almshouse accommodation to more than 100 residents on sites in central Bath and a purpose built development at Combe Park
The charity has made small grants to individuals in need for more than 20 years
More recently, it has made grants to organisations working with people in need in and around Bath
Its grants currently total about £450,000 a year
---