Circus artists and dancers over 65 open Bristol show about ageing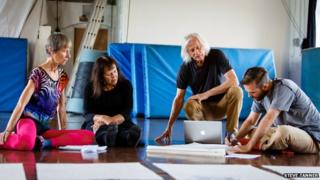 A stage show starring professional circus artists and dancers in their 60s in a production about ageing and the passing of time is opening in Bristol.
"Once Upon a Time" features a 67-year-old trapeze artist and two 66-year-old dancers and premieres at Circomedia on Thursday.
The search to find the three performers took over a year as it was difficult to find actors who were old enough.
Producer Katie Keeler said some senior artists who auditioned were too young.
She said: "The trouble is, contemporary circus is a new art form and so even though we found a few senior artists, they were not old enough.
"We were delighted to find trapeze artist Mike Wright. Mike still practises as an artist and teacher but we also wanted to meet people who have retired from circus."
The production was directed by Agnieszka Blonska who was interested in how ageing affects performing artists whose bodies were "the centre and main tool in their work".
Ms Blonska said: "It's important to look at the subject of ageing now, not in a category of a problem, but to be able to notice a person. Theatre seems a perfect platform to do that."
Dancer Caroline Lamb, 66, said: "I'm excited by this work - it's great to feel relevant, needed and reinvigorated, to be appreciated for what I am now, not what I was, not what I used to be able to do but who I have become through my life experience and my own journey.
"Dancing and performing are what make me feel most alive. Will we be appreciated, liked, admired or will we look foolish? Who knows? It's scary and dangerous.
"But it's life enhancing to be given a chance to do these things again and I am trying to be brave."
The show is being performed on 25, 26 and 27 September at Circomedia in Portland Square.