'Extreme anarchist link' to Bristol crimes investigated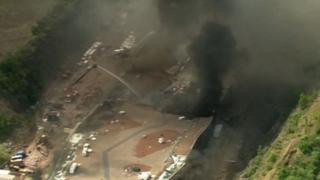 More than 20 crimes across Bristol in the last three years could be linked to extreme anarchist groups, police have said.
Such groups have said they carried out arson attacks which destroyed a police firearms training centre, councillors' cars and a radio transmitter.
Ch Supt Julian Moss said: "These are primarily criminality, but we also categorise it as domestic extremism. We are not categorising it as terrorism."
Police are yet to charge anyone.
Separate anonymous cells with no apparent leadership have claimed in blogs they were responsible for 24 crimes in the Bristol area.
In one of the first attacks, cars belonging to Conservative councillors Kevin Quartley and Geoff Gollop were set alight.
Eight days later, this statement appeared online: "This is the fire of the ghetto delivered to their door and a taste of what the right wing filth deserve. We can strike you any time we wish, class terror/FAI."
'Anarchy' in Bristol
In April 2012, a fire at the East Dundry transmitter knocked out two local radio stations
A month later, rail services in and around Bristol were brought to a standstill following fires in Patchway and Bedminster
On 9 January 2013, paint stripper was poured on prison officers' cars at Horfield
On 13 April 2013, the Conservative Club on Fishponds Road, and a police car, were set on fire
In August 2013, there was a fire at the police firearms training centre in Portishead and an arson attack at the Brislington branch of Barclays Bank
On 5 December 2013, a CCTV unit in Hotwells was attacked
Four days later, the tyres of more than 20 SUVs were slashed
In August 2013, a group calling themselves the Angry Foxes Cell said they had set fire to the partially-built £16m police firearms training centre in Portishead.
Det Ch Insp Andy Bevan said: "Numerous lines of inquiry were pursued in relation to that investigation and that investigation remains open.
"It is potentially linked to the other attacks as well and that is a line of inquiry that I'm pursuing in relation to the claims that have been made."
The Earth Liberation Front (ELF), which has claimed it carried out a number of the attacks, was once described by the FBI as the most serious domestic terrorist threat in the US.
Leslie Pickering, ELF's spokesman in the 90s, said the Bristol incidents "certainly look like" activity by the group.
Mr Pickering, who lives in Buffalo, New York, described the group as "an underground organisation with a set of rules that works to defend the environment against corporations and government agencies that are causing destruction".
He said the people involved would be those "who care deeply and passionately about the environment and, at the same time, recognise that the mainstream 'legitimate' ways to work for social change or environmental justice aren't having the effects they need to be having".
"Just about anyone" could act in the name of ELF, he said.
But he added: "It's going to be hard to find someone who's willing to risk their freedom, life imprisonment or worse, even maybe their life, to join this kind of guerrilla struggle."
Det Ch Insp Bevan said the Bristol incidents could "potentially" be described as terrorism, but said: "I can't discount the fact that this could be a smokescreen for something else."
Asked if he was looking at a terrorist cell, he said "no".
"There is quite clear legislation that deals with terrorism. These are acts of criminal damage. Whatever the motive is, clearly I need to establish that," he said.
Inside Out West investigates this issue on BBC One at 19:30 BST and nationwide on the iPlayer for seven days thereafter.