No compensation over Bristol water supply loss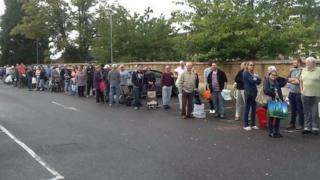 Residents of 24,000 homes that lost water supplies for up to 48 hours when a main burst in Bristol will not receive compensation.
Homes were left without water when the pipe was damaged in Kingswood on Thursday, leading to queues of up to three hours at water bowsers.
Bristol Water is offering help to those who were flooded but said there would be no payout over the loss of supplies.
Local MP Chris Skidmore said he wanted an investigation into its response.
Paul Kelson, from Bristol Water, said the company would be carrying out a review and had invited Mr Skidmore, Kingswood's Conservative MP, for a meeting to "hear his thoughts and concerns".
Mr Kelson said about 15 properties had been damaged by flood water.
He said: "Unfortunately a consequence of any burst main, potentially because they're in roads, is flooding.
"[Householders] often have their own insurance but we cover all of that to make sure we return the properties to normal."
Mr Kelson added that although it was "a terrible inconvenience", there would be no compensation for loss of water supply because it was an emergency situation and the main had been repaired within 48 hours.
Mr Skidmore said he thought Bristol Water's response to provide water "wasn't good enough".
He said: "The problem I have as the local MP, is that with 24,000 households without water, why were there only five sites with bowsers?
"And there were queues of several hours, sometimes three hours long, with people waiting for water."
All water supplies were restored by midday on Saturday but Fisher Road, where the main ruptured, remains closed.