More 20mph zones introduced in Bristol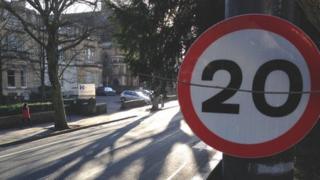 More 20mph speed limits have come into force in Bristol.
The lower speed limit has been introduced in Henleaze, Horfield, Lockleaze, Sea Mills, Stoke Bishop and Westbury.
Nearly all of the previously 30mph residential roads in the area are included in the scheme.
The council said the zones make communities safer. Opponents said they have been a "complete failure" and lead to more people being injured.
Mayor George Ferguson said: "There are tangible safety benefits of reducing speed to 20mph and a reduction in noise will also benefit residents.
"Research shows that the real impact on journey times for drivers is remarkably small."
But Hugh Bladon from the campaign group Alliance of British Drivers said: "We don't understand why Bristol are doing this when the Department of Transport are doing an investigation into 20mph zones which won't report back until 2017.
"Without doubt they are a complete failure. The Institute of Advanced Motorists has come out against them because there's been a 25% increase in people killed in them, and a 17% increase in people seriously injured."
The lower speed zones are part of a £2.3m programme spearheaded by Mayor George Ferguson.
A city-wide rollout is due to be completed by March next year.