Bishopsworth pool to be transformed into indoor skatepark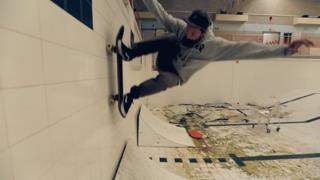 A derelict swimming pool in south Bristol is to be transformed into an indoor skatepark.
Behind the vision for the "new and ambitious project" is Campus Skatepark, a social enterprise run by Andre Seidel and Tim Nokes.
They said regenerating the former pool in Bishopsworth would cost £300,000 but still need to raise £40,000.
Bristol City Council said the scheme which would save the building from demolition was "brilliant".
Bishopsworth swimming pool closed in 2012 and following public consultation local residents said they did not want the building to be knocked down.
Andre Seidel said Campus used "skateboard-based activities to support communities and young people in Bristol" and a "world-class indoor concrete skatepark" would give the disused pool "focus and a new identity".
The plans for Bishopsworth pool include a cafe, meeting room, office areas and trained youth workers.
Heather Williams, from Dundry View Neighbourhood Partnership, said it was a "win-win for the area" and described the plan for the pool as "visionary".
Campus and the city council are in the final stages of signing the lease.