Bristol's Dawn Britton's family angry over her pharmacy-error death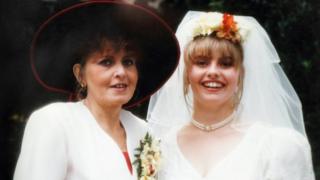 The family of a woman who died after taking tablets dispensed in error by a pharmacy, have spoken of their anger.
Dawn Britton, 62, was given pills for diabetics to lower blood sugar levels despite not having the condition.
In a narrative verdict, the Avon coroner said her death was due to taking gliclazide tablets dispensed in "error by a pharmacist".
Jhoots Pharmacy admitted "a dispensing error occurred" and it was "very saddened by this tragic event".
'Gutted and upset'
At the one-day inquest held at Avon Coroner's Court last Monday, coroner Maria Voisin ruled Mrs Britton died of hypoxic brain injury as a result of profound hypoglycaemia caused by taking the wrong tablets.
Mrs Britton's daughter, Tammy Haskins said her death had had a "devastating impact" for her and her two brothers.
"Even now, when I think about how she died, I still can't quite believe it, it is something you don't think will ever happen to your family," she said.
"How on earth could this happen? I go through so many emotions when I think about it. I am gutted and upset, but I am also still angry. Mum should still be here today."
The family are now seeking legal action against the pharmacy firm, whose branch in Pool Road, Bristol had dispensed the drug.
'Tighten procedures'
During the inquest, the pharmacist said a locum had not followed procedures, a claim disputed by the locum.
"Nothing can bring my mother back now, but the least I hope comes from this is a tightening of procedures across the board so that it doesn't happen again," added Mrs Haskins.
A spokeswoman for the pharmacy, said: "We wish to say how sorry we are for what has happened."
"[But] we do not wish to prejudice any further investigations by commenting further at this time."