'Visa error' mother must leave child in UK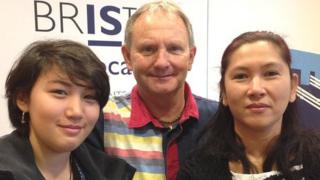 A mother and daughter living in Bristol may be forced to live apart for two years due to a "visa error".
Filipina Mae Draper has been married to a Bristol man for 20 years, but is facing deportation after being issued a visitor visa instead of a spousal visa.
The Home Office said in order to apply for a spouse visa to stay in the UK, she must leave the country.
MP Chris Skidmore, who is supporting their case, said it was "common sense" that she should be allowed to stay.
Kevin and Mae Draper were married in the 1990s and spent a year and half in Bristol before moving to Dubai.
The family returned three years ago to England and Mrs Draper went to visit her father in the Philippines.
"We expected she would be able to get on a plane within a few months and come straight back to Bristol," said Mr Draper.
He said it took a year of applying to get a visa to come to the UK.
'Tragic and distressing'
But Mr Draper claims his wife was not "properly" advised and returned to Bristol on the wrong visa.
Now, the Home Office has said she must leave the country to re-apply.
"The immigration rules make clear that it is not possible for a visitor to switch to a spouse visa," a spokesperson said.
"It remains open to Mrs Draper to submit a fresh application as a spouse from outside the UK."
But Mr Draper said it could take two years before his wife "is allowed back to see her child again".
With the family already forced to live apart for a year, Kingswood Conservative MP Chris Skidmore has taken up the case.
"This is a tragic and distressing story and one which is totally unnecessary," he said.
"I believe it makes perfect common sense that Mae should be allowed to stay."