Body parts removed without consent at Bristol hospital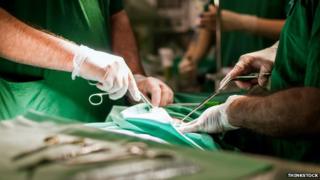 A woman has had body parts removed without her consent during an operation at a Bristol hospital.
She was having surgery to remove an ovary but her uterus, appendix and omentum - a membrane which supports the intestines - were also taken.
University Hospitals Bristol NHS Foundation Trust has apologised and paid £11,000 compensation.
The incident was revealed in an Ombudsman's report which looked at complaints about the NHS in England.
The report also showed her wound reopened after surgery and doctors at the hospital did not treat it properly.
Post-operative care and treatment "fell below the required standards", the report by the Parliamentary and Health Service Ombudsman said.
The trust, which runs 10 hospitals in the city, said it could not confirm where the incident had happened.