Shrien Dewani trial: Hiring a hitman in South Africa
By Rhiannon Beacham
BBC News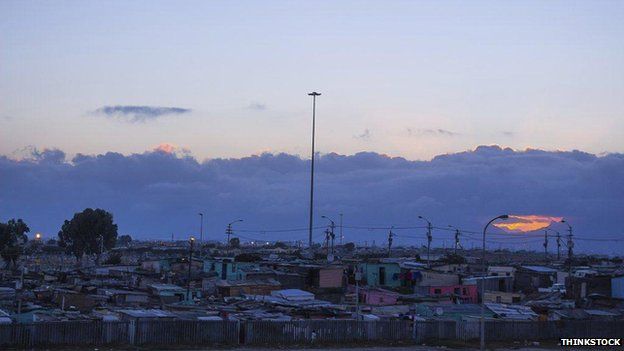 The apparent ease with which contract killings can be set up in South Africa was highlighted during the trial of Shrien Dewani, who has been cleared of arranging the murder of his new bride Anni on honeymoon in Cape Town.
Mr Dewani was earlier cleared of arranging the killing, which happened after the couple's taxi was hijacked in the township of Gugulethu.
Prosecutors had argued he conspired with taxi driver, Zola Tongo, to set up the murder within half an hour of arriving at the airport. Tongo had told how he helped set up the killing for the following evening, despite having no criminal experience or contacts.
But the defence successfully argued his evidence was "not only highly improbable but is also riddled with contradictions".
Unemployment and hunger mean it is easy to find a hitman in South Africa, according to freelance journalist Sandiso Phaliso, who lives in one of Cape Town's townships, Philippi.
Following the murder of Anni Dewani in 2010, when Mr Phaliso was working for West Cape News, he was asked to find out how easy it was to hire a contract killer.
He says he found three in half a day.
"It's easy to find one," he said. "It's easy for me because I live in the township, I know gangs, people involved in gangs."
"It's common because the country has a high rate of unemployment and the government is not doing enough to cut unemployment.
"People come up with many ways, schemes, to put food on the table. They are doing it for the money."
He said people in South Africa were willing to work for 2,000 rand - about £110 a month.
"For anything beyond that, 3,000, 4,000 rand, they are willing to take that offer, they are willing to take the job," he added.
"These are people for who a month goes by without them earning anything, so 1,000 rand for two days work or a week they will do it."
The 29-year-old said contract killings in South Africa were a daily occurrence.
"I'm not exaggerating," he said. "Mostly what happens is people do it for an insurance policy. When it's 'accidental', someone is shot or killed by a car, the money doubles.
"Now it's happening more because a wife wants to kill a husband or a husband wants to kill a wife."
But he said many of these killings went unrecorded.
"It's not unusual. Sometimes when a hit happens, people are hired for arson to burn houses, sometimes people are hired to kill someone in an 'accident'. It happens more often, but these cases are going unreported."
Gareth Newham, head of the Governance, Crime and Justice Division at the Institute for Security Studies in Pretoria, said he was not aware of any research or statistics on contract killings in South Africa.
"Unless the police solve the case and prosecute those involved, these crimes do not come to the fore," he said.
It had been alleged in Mr Dewani's trial that he set up Anni's murder through taxi driver Tongo.
Tongo told the court that, while he was "not involved in any such activities", he knew someone who might know someone who was.
According to his evidence, he then spoke to Monde Mbolombo who immediately found him the two hitmen - Mziwamadoda Qwabe and Xolile Mngeni.
But William Booth, of the South African Law Society, said he did not think it could be so easy.
Mr Booth, a criminal defence lawyer, said: "One of the things I've found very amazing is Dewani could get off an aeroplane and in a short time speak to someone like Tongo and engage him to kill his wife. It's something that bothered me all the way through the trial.
"Yes, people who are approached who are unemployed are more readily willing to assist with crime and there's major unemployment in South Africa and people earning low income so that kind of temptation is there.
"But, look at Tongo. He was earning a good salary according to the evidence in court, he had a motor car which was valuable. It wasn't as if he was desperate for money, but people are greedy.
"It's a fact people are poor and the unemployed more readily agree to commit crime, but crime doesn't mean they're prepared to shoot someone, that's a big jump to make."
Mr Phaliso agreed it would be harder for a tourist to find a hitman as they would need to befriend someone first who has criminal contacts and could act as a middleman.
"It's not going to be easy for someone they don't know to talk to them, someone they don't trust," he said. "Sometimes police go undercover and pretend to be someone else."
"A lot of the time, a week will be enough [to organise a hit], it can be 48 hours," he added. "A week is the longest time it will take for them to do that.
"For me, living in South Africa, it's scary because anything can happen at any time. You could be dead, there could be no trace, and if you're not a well-known person the police won't solve it.
"It's not easy for the courts to convict someone when you're killed."