Bristol mayor says city is 'thriving, not sleepy'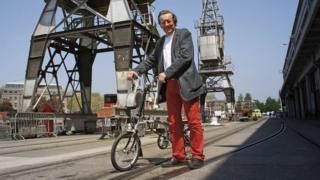 The mayor of Bristol has defended the city's credentials after a leading entrepreneur criticised the local council's approach to business.
On Tuesday, Bristol billionaire Peter Hargreaves said Bristol was a "sleepy city" with "crazy parking schemes".
In response, George Ferguson said business in the city was "thriving".
He said he had a "huge amount of respect" for what Mr Hargreaves had achieved but that the businessman tended to "shoot from the hip".
'Best in Europe'
Mr Ferguson, an independent, said: "I spend much of my time making sure that Bristol has a high profile across the world - including celebrating the success of our financial sector.
"It is all very well blaming the council but much is down to the way strings are pulled from Whitehall and major employers should also look to what they can do."
He highlighted the city's university business incubator unit at the Engine Shed, calling it the "best in Europe."
He also noted the city council's investment of nearly £400m in Bristol's transport networks.
"We look to local businesses to play their part in encouraging their employees to take advantage of alternative [transport] options," he added.
"The city will be less congested and businesses will reap the benefits."
Mr Hargreaves' comments came during a debate on BBC Radio Bristol on whether the city's boundaries should be re-drawn.
The co-founder of investment firm Hargreaves Lansdown said the city council was "almost anti-business".
"When I moved to Bristol 30-odd years ago there were lots of businesses coming to Bristol," he said.
"It's very rare you hear a big company move to Bristol [now]. I think there's a feeling Bristol's a sleepy city and that the local authority is almost anti-business. All these crazy parking schemes are mad."
He also said high commercial rates were destroying many small businesses.