Revised Whiteladies Road cinema plans backed by council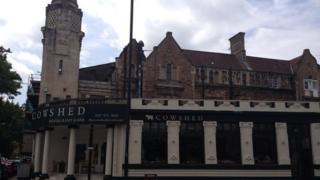 Revised plans to redevelop and reopen a derelict Bristol cinema have been given the go-ahead by city councillors.
On Wednesday, planners backed proposals to convert the Whiteladies Picture House into a new three-screen cinema, run by the Everyman group.
A previous application was agreed but, due to legal proceedings, a revised application had to be submitted.
A spokeswoman for owner David Lewin said he was "delighted" and hoped the cinema would be open by December 2015.
"It has been a frustrating six months since the original consent was granted," she said.
"We feel the judicial review was unnecessary and costly to us and Bristol taxpayers. We hope now we can get on site, get cracking and bring the cinema back to life."
'Lost forever'
As well as the new cinema, Mr Lewin's proposal will see the creation of five flats in part of the building, which will help fund the scheme.
Writing on Twitter, Whiteladies Picture House group, which has long campaigned for the building to be restored to its former glory, said it was "unsurprised" about the decision.
"At the public inquiry [Bristol mayor] George Ferguson said that English Heritage had let the building down," the group said.
"This time around it is Bristol Council that has failed it. While the councillors pat themselves on the back for a job well done, in five or 10 years I think people will look back and despair at what was lost.
"Over 50 heritage cinemas in Bristol - now every single one cut up and lost forever."
Bristol City Council has yet to respond to a request from the BBC for comment.
The Grade II-listed cinema has remained unused since it closed in November 2001.
The building is within a conservation area and has been on the English Heritage at-risk register since 2003.