Shrien Dewani trial: Hotel worker given immunity 'could still face trial'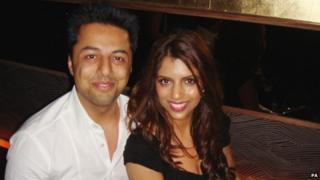 A hotel receptionist granted immunity for his part in the honeymoon murder of Anni Dewani may still face prosecution, a judge in South Africa has ruled.
Monde Mbolombo who had admitted involvement was granted immunity after giving evidence at an earlier trial.
But he has now been told indemnity may not apply to the trial of Swedish national Anni Dewani's husband, Shrien.
Mr Dewani, 34, from Bristol, denies arranging for his wife to be killed in an apparent car-jacking four years ago.
Judge 'not satisfied'
Mbolombo has always admitted involvement in the plot, but was told he would not be convicted of conspiracy to commit murder or illegal possession of ammunition after giving evidence in the case of gunman Xolile Mngeni, who was jailed two years ago.
But after giving evidence at Mr Dewani's trial at the Western Cape High Court, Mbolombo, 35, was told by Judge Jeanette Traverso: "I am not satisfied as I sit here yet - I might be at a later stage - that the indemnity granted to you by Judge Henney applies to this case as well.
"At a later stage I would ask counsel to address me on that aspect."
Mr Dewani is on trial for allegedly plotting with three men, shuttle taxi driver Zola Tongo, Mziwamadoda Qwabe and Mngeni, to kill his 28-year-old wife while on their honeymoon.
He has pleaded not guilty to charges including kidnapping, murder and defeating the ends of justice.
Mbolombo claims his role was to ensure Tongo and Qwabe met and to ensure the plot followed through.
Counsel for the defence claim the couple were hijacked as Tongo was driving them through the Cape Town suburb of Gugulethu in his minibus.
The businessman was released unharmed but Anni Dewani was driven away.
She was found shot dead in the abandoned minibus in Khayelitsha the next morning. Her killer, Mngeni, died in prison of a brain tumour.
The trial continues.