Bristol Rovers wins extended Sainsbury's delivery times for planned store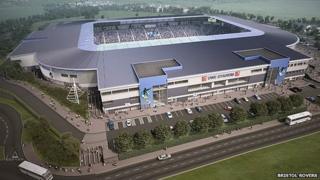 An application to allow deliveries for 19 hours a day on any day of the week at a planned Sainsbury's has been backed by Bristol City Council.
The bid was submitted by Bristol Rovers Football Club who agreed a deal for the retailer to buy its Memorial Ground home to fund the club's planned move.
Protesters said the rule would cause "misery" for people living nearby.
The supermarket chain indicated it would pull out of the deal if the extended times were not secured.
The club needs to sell its current ground to help pay for a new 21,700-seat stadium in Frenchay.
Following the decision, deliveries will be able to take place between 05:00 and midnight seven days a week.
Tim Malnick, a Green Party councillor for the local Bishopston ward said he was "staggered by the result".
"There were concerns about mental health issues and sleep disruption and I didn't see many of the committee members take those issues on board enough to ask officers questions," said Mr Malnick.
Earlier, Sainsbury's announced it has reined back plans for new stores and said the change in plans has affected its balance sheet by £287m.
But Tony Watola, finance director for Bristol Rovers Football Club, said he expects the chain to keep its end of the deal to build the new store on the Memorial Ground.
"Sainsbury's have a contract with us. If we meet all the terms of the contract then they have to complete," said Mr Watola.