Hotel rape exposed Bristol child sex abuse ring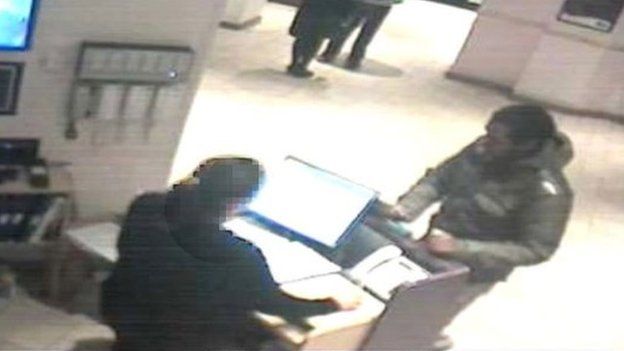 Thirteen men have been convicted of a string of child sex abuse crimes following the discovery of two child sex rings in Bristol.
The revelations have shocked the local community. But how did police uncover the crimes? And how do these damaging relationships begin?
The concrete monolith of Bristol's Premier Inn hotel, at the foot of the M32 motorway, towers above the city centre.
Inside the imposing structure, in December 2012, a 13-year-old girl was raped by three men.
The discovery of that event set in motion a police investigation that uncovered a two-year catalogue of child sexual abuse by Somali men in the city.
The intelligence-led operation was assisted by members of the Somali community and vulnerable victims, who showed "remarkable courage" coming forward to police.
One of those convicted for abusing multiple victims told the court at his trial that sharing girls for sex "was part of Somali culture" and "a religious requirement".
Following the convictions, Bristol Somali Forum they were "deeply shocked and shaken" by the revelations in the case.
In a statement they described the events as: "unforgivable acts of cruelty against the most vulnerable members of our community".
It added: "The Muslim communities in Bristol would like to make it absolutely clear we wholeheartedly condemn these dreadful evil acts.
"It is right and appropriate that those responsible, and found guilty through our judiciary process are punished to the fullest extent of the law, regardless of who they are."
The children's charity Barnardo's claimed the discovery of the crimes is "only the tip of the iceberg".
The organisation has seen more than 90 people in the past six months who are either victims or at high risk of becoming victims of child sex crimes at their Bristol office.
Regional director Hugh Sherriffe said he believed as people became more vigilant to sex crimes "we'll see more and more of this".
He added the apparently high number showed the city is "very aware of child sexual exploitation issues".
Esther Keller from Bristol charity Kid's Company, which supported one of the victims, agrees, and believes child sexual abuse in the city is "probably more widespread than even we realise".
"And after this court case other girls might pluck up the courage and say 'it happened to me as well'," she said.
She believes a lot of the abuse is hidden and many of the victims are not realising they are in a situation "that's not really very savoury".
"Many of the girls involved had some sort of attachment issues and were looking for somebody to care for and love them," Ms Keller said.
"Within these relationships it takes a long time before the abuse begins. What the perpetrators are trying to do is to build up the trust with these girls.
"In the back of the perpetrator's mind is always this desire to pounce as soon as they think they can.
"They [the girls] think they're in a very loving, caring relationship for the rest of their lives and they can't imagine that these men, that are so nice to them, are trying to abuse and exploit them.
"I'd urge parents... if your daughter comes home and they suddenly wear nice clothes and are given lots of gifts by some men, check out what this is about - particularly if they are very young."
Ch Supt Julian Moss, head of Avon and Somerset Police's CID department, described what officers found as "appalling, abhorrent crimes" against "vulnerable young children" and praised the victims' "courage and strength".
"Nobody should underestimate how difficult it has been for them to do that and I'd like to give my heartfelt thanks to each one of them," he said.
Related Internet Links
The BBC is not responsible for the content of external sites.