Bristol parking: Questionnaire seeks residents' views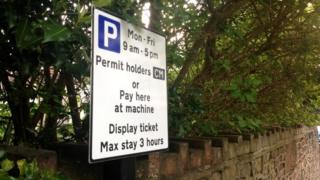 A questionnaire has been delivered to thousands of homes in Bristol asking people for their views on the city's new resident parking zones.
The initiative has been set up by businessman Mark Moran who has questioned the way the scheme to deter commuter parking is being implemented.
Mr Moran said the scheme is "divisive" and "complicated", and has been "forced on to people".
Mayor George Ferguson said he is happy to receive feedback on projects.
The scheme has been controversial. In April, Clifton traders drove a tank through the area in protest at the "lack of consultation".
'Positive reactions'
They also handed in a 5,000-name petition against the plans.
And in September, a number of major employers including the university and a hospital trust called for a rethink of the city-wide residents' parking zone.
So far, four zones have been rolled out across the city.
Bristol City Council expects 12 in total to be in operation by next spring.
Mr Ferguson, who is behind the parking plans, said he has received "very positive reactions" from those living in the four areas where the scheme has started.