Bristol City: Bid to help fan Oskar Pycroft, 6, walk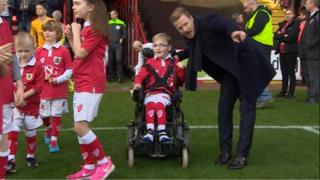 A £70,000 fundraiser has been launched to pay for surgery to help a six-year-old boy with severe cerebral palsy walk.
To mark the launch, Oskar Pycroft, from Whitchurch, near Bristol, led out Bristol City in their match against Preston North End on Saturday.
The surgery is unavailable on the NHS so it is hoped the surgery can be carried out in the US.
It would reduce the pain and spasticity in the legs.
The club's captain Wade Elliot said: "For everything he has to contend with, he's such a lovely upbeat boy and he's Bristol through and through."
'Gut-wrenching'
As well as severe cerebral palsy, Oskar has gastric reflux, asthma, occasional fits and also shows signs of autism.
His mother, Lizzie, said: "He is a wonderful child, very happy in a lot of respects, but when you see a child in pain all the time, it's gut-wrenching as there is nothing you can do physically to take it away.
"You can give him medicine or massage his legs but it does not take away the pain."
If the campaign is successful the surgery will be carried out at Saint Louis Children's Hospital in the US.
The procedure, called selective dorsal rhyzotomy (SDR), involves locating the malfunctioning nerves and cutting them and would also reduce the bone deformations which occur as he grows.