Shrien Dewani trial: Judge hears dismissal application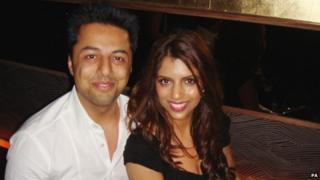 A judge is being asked to throw out the case against UK businessman Shrien Dewani, who denies conspiring to murder his wife in South Africa.
Swedish national Anni Dewani was shot dead during the couple's honeymoon in Cape Town in 2010.
Mr Dewani's defence team claims a key prosecution witness is unreliable.
Taxi driver Zola Tongo, who is serving 18 years for Mrs Dewani's murder, has told the court he was paid by her husband to organise the murder.
Defence lawyer Francois van Zyl told the Cape Town court the state's case rested on Tongo's evidence.
Western Cape High Court judge Jeanette Traverso is hearing the arguments for dismissal, although her decision is not expected until later in the week.
The prosecution alleges Mr Dewani paid Tongo 15,000 rand (£1,000 at 2010 exchange rates) to organise his wife's death.
She was killed during an apparent carjacking.
Mr Dewani maintains the money was for a surprise helicopter trip.
"The state's whole case was based on a conspiracy. Tongo is the pillar on which this case rests and if that pillar falls then the whole case collapses," said Mr van Zyl.
"Tongo proved to be a completely unreliable witness."
'No evidence'
Mr van Zyl told the court Tongo had been hired by the honeymooners on their arrival in South Africa.
When the taxi arrived at the Cape Grace Hotel, where they were staying, Mr Dewani spoke to Tongo about a job "that will make his business grow", the court has heard.
It is at this point, Tongo alleges, Mr Dewani said he wanted somebody killed.
The defence argues it was "improbable" that Tongo "virtually immediately" agreed to take part in a murder because he had "never been involved in any criminal activity".
"You have to ask yourself how probable is that within half an hour he asks him to find a hit-man," Mr van Zyl said.
"Yes, there was a conspiracy. Yes, there was a hijack. Yes, Anni was shot. But there is no evidence Shrien Dewani was involved."
In a 127-page submission to the court, Mr Dewani's defence team argues there is "no credible evidence" that implicates their client in the case.
It also argues that the state's other witnesses, Mziwamadoda Qwabe and hotel receptionist Monde Mbolombo, were "poor" witnesses whose evidence "cannot be relied upon".
Qwabe was sentenced to 25 years for his part in the murder. Monde was granted immunity. Xolile Mngeni, who was convicted of firing the shot which killed Mrs Dewani, was sentenced to life in prison and died in jail.