Bristol car fires: Police examine anarchist claims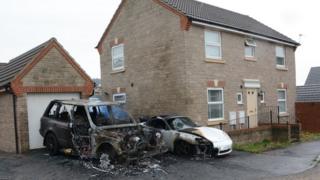 Anarchists have claimed responsibility for arson attacks on five cars in an affluent area of Bristol, police said.
The vehicles, including a Porsche, were parked in driveways and on the road in Long Ashton when they were set alight at about 04:00 GMT on Tuesday.
Police said it was "sheer luck" nobody was seriously hurt or killed.
Det Ch Insp Andy Bevan said they had been made aware a group was claiming responsibility for the fires online but were keeping an open mind.
Avon and Somerset Police said in September more than 20 crimes across Bristol in the last three years, including an arson attack on the force's partially-constructed firearms centre, could be linked to extreme anarchist groups.
In Tuesday's incident, the targeted cars were parked in Blackcurrant Drive, Perry Road and Brook Close.
Extensive damage was caused to each vehicle and nearby houses were also smoke damaged.
Mr Bevan said: "These fires could have easily been life-threatening due to the scale of the damage they caused.
"As you can see from the photos, the smoke damage has spread to the homes next to the cars.
"Families would have been fast asleep during these attacks and it is sheer luck the fires did not take hold of these houses and someone was seriously injured or killed."
The claim of responsibility was posted on the same website previous claims about Bristol attacks were made on.
The site describes itself as part of an "international informal network" where reports from "active revolutionary groups" can be published.
"We have been aware of the online claim of responsibility for these attacks and it remains a line of inquiry we are actively pursuing," Mr Bevan said.
"At this time, there is nothing to conclusively show or dismiss links between the attacks and the claim of responsibility.
"This incident is being treated as acts of arson and criminal damage.
"We have to be careful not to make assumptions and we are keeping an open mind at this stage."