Seven jailed for part in Bristol sex abuse gang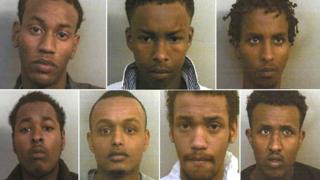 Seven men who were in a gang which raped and abused girls in Bristol have been jailed for up to 11 years.
Four teenage girls were abused by the men, who are of Somali heritage, Bristol Crown Court was told.
Victims were told it was part of the men's "culture and tradition" and "men always have sex with each other's girlfriends".
A 13-year-old was raped four times by three different men in a Premier Inn in Bristol city centre.
'No mercy'
Said Zakaria, 22, was sentenced to 11 years for rape and sex with a child.
Sentencing Zakaria, who raped a girl twice in one night, Judge Julian Lambert said "You showed utter disregard for her integrity.
"You were merciless. I will show you no mercy, nor should you receive it."
Mohamed Jumale, 24, was sentenced to 10 years for rape and sex with a child.
Judge Lambert told him: "She cared deeply for you; love flowed only one way. You reciprocated only with lust on your part.
"The law is there to protect girls being sexualised. You dominated a girl who was far too young."
Child prostitution
Jumale was also convicted of aiding and abetting his brother Omar, 20, with one of the girls telling her to have sex with Omar "to prevent him from turning gay".
Also sentenced of Friday were:
Jusuf Abdirizak, 20, was jailed for seven-and-a-half years for rape
Sakariah Sheik, 21, was sentenced to four years years for rape and sex with a child
Abdirashid Abdulahi, 21, was sentenced to four years for rape
Omar Jumale, 20, was sentenced for two years for sex with a child
Mohamed Dahir, 22, was sentenced to two years for causing child prostitution
The victims were aged between 13 and 17 at the time of the offences.
A trial held earlier in the year saw six other men jailed for the rape and sexual abuse of two girls at a flat in the Easton area of Bristol.
Details of that case could only be reported on Thursday, after reporting restrictions were lifted following the convictions of the seven jailed on Friday.