'Unique' theatre archive donated to Bristol University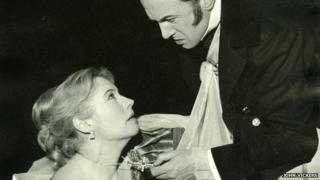 A "unique" religious theatre company has donated its archive to the University of Bristol.
Theatre Roundabout produced mainly "two-person shows" featuring William Fry and his late wife Sylvia Read between 1961 and 2008.
The couple wrote plays especially for Christian groups but also adapted novels such as Jane Eyre so they could be performed by just two actors.
The archive can be seen as part of a university exhibition until 27 March.
It includes business papers, programmes, photographs, scripts, costumes, props and "other accessories".
Mr Fry said: "For me, Theatre Roundabout was a glorious experience in every way - working with Sylvia Read, the places we visited, the people we met - it was like the most wonderful gift."
Mr Fry and Ms Read would play several characters in their dramatisations of novels.
The couple also performed a "two-handed Hamlet" sharing 14 different characters between them, operating the music and sound effects machine as they acted.
Their religious work included writing plays for the United Society for the Propagation of the Gospel and the Religious Drama Society, Radius.
The company toured venues including small churches, cathedrals, arts venues and village halls and by 1967, had started to tour internationally.
They travelled in a motor caravan which "became their touring home, office, emergency dressing room, a place to eat and entertain friends and above all a refuge from the stresses on life on tour."
Jo Elsworth, from the University of Bristol's Theatre Collection said: "This exhibition tells the story of Theatre Roundabout and the extraordinary energy and commitment of the two dedicated individuals at its heart."