Bristol menopause clinic pilot reduces referrals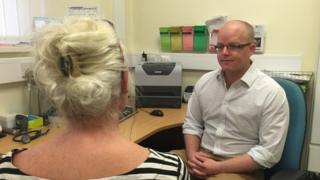 A menopause service being piloted in Bristol is helping women to avoid unnecessary referrals to hospital and be treated by their own GP.
Specialist GP Dr Tim Percival has been running the community clinics, which serve 21 GP practices in the north west of the city, since September 2012.
Dr Percival said the clinics offered specialised menopause services and also covered other gynaecological problems.
The Clinical Commissioning Group (CCG) said it would be evaluated next year.
Hospital 'rarely needed'
The CCG said "initial indications are that it saves money whilst giving a great service to patients".
Dr Percival and a nurse run two clinics per week. He also advises GPs via e-mail and telephone about how to help women manage menopause symptoms.
Dr Percival said: "I noticed an awful lot of of women were being referred to hospital when they could have been treated by their GP, or within a community clinic.
"Menopause very rarely needs to go to a hospital - if ever. Specialist menopause clinics are few and far between and are only scattered in some areas in the country.
"There's no specialist menopause service in Bristol. But most menopausal problems are relatively simple and can be managed by GPs, if they have the support of advice or the ability to refer to a community clinic like ours."
He also runs a monthly joint clinic with gynaecologist consultant Naomi Crouch at St Michael's Hospital.
Miss Crouch said: "It is quite an innovative approach. Tim has access to specialist support and women are able to get specialist advice in a timely fashion and much of it within the community.
"It's about putting women at the centre of the care. Hospitals and primary care have been traditionally quite separate and this blurs the boundaries in a good way."