Police face misconduct charge over Bijan Ebrahimi death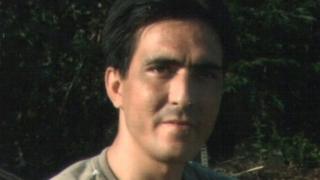 Three PCs and a PCSO are to face misconduct charges after the murder of a man by a neighbour who wrongly believed him to be a paedophile.
Lee James, 25, killed Bijan Ebrahimi and set fire to his body in the Brislington area of Bristol in 2013.
PCs Kevin Duffy, Helen Harris and Leanne Winter allegedly failed to respond to the victim's calls for help.
PCSO Andrew Passmore is alleged to have given false information to a 999 operator about his location.
Mr Passmore will also be charged with perverting the course of justice for allegedly giving different accounts to the murder investigation and the police watchdog.
Kicked 'like a football'
The four will face charges of misconduct in public office at Bristol Magistrates' Court on 14 January.
As well as the four who have been charged, a further 13 police officers and staff face internal misconduct charges.
A police sergeant and four members of police control room staff will face gross misconduct charges. Another member of control room staff would have faced charges but has resigned.
Two inspectors, two sergeants, a police constable and two members of control room staff will also face charges of misconduct.
Mr Ebrahimi's family issued a statement saying they were "relieved" by the decision.
The Crown Prosecution Service said charges against a police emergency call taker and an emergency call supervisor would be dropped because of insufficient evidence.
"The decision to prosecute was reached after careful consideration of the evidence and was taken in accordance with the Code for Crown Prosecutors," a spokesman said.
"We have determined that there is sufficient evidence to give rise to a realistic prospect of conviction and that a prosecution is in the public interest."
James was sentenced to serve a minimum of 18 years in jail for murdering Mr Ebrahimi, who was an Iranian national.
He repeatedly stamped on Mr Ebrahimi's head during the fatal attack.
James later told police he kicked his victim's head "like a football" before setting his body on fire.
Stephen Norley was jailed for four years for assisting an offender.