Charlotte Bevan death: Funeral of Bristol mother and baby takes place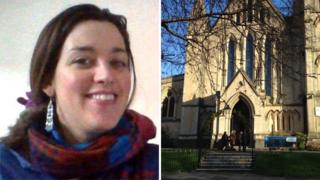 The funeral of a mother and her baby daughter who went missing from a Bristol hospital have taken place.
Charlotte Bevan, 30, vanished from St Michael's Hospital with four-day-old Zaani Tiana Bevan Malbrouck on 2 December.
Their were found on the Avon Gorge on 3 and 4 December respectively.
Ms Bevan's partner, Pascal Malbrouck, said she had filled him with "hope" and that he could remember "every minute" of his daughter's life.
"Four days doesn't seem much but for me it's like eternity and those memories will stay with me forever," he added.
He said both were "amazing".
"Charlotte was my joy, my hope, my strength, my mentor, and every minute I spent with her she taught me something," Mr Malbrouk said.
"She taught me to love often and to love much, to be patient and to appreciate beauty and find the best in others."
'Adventurous spirit'
Mourners at Christ Church Clifton turned up in bright clothing, especially scarves and shoes, at the request of Ms Bevan's family.
Speaking at the service, Ms Bevan's mother Rachel Fortune, described her as "adventurous, colourful and talented".
She said her daughter's adventurous spirit had taken her to the Sahara Desert, and to climb Mount Sinai in Egypt.
She urged those at the service to "turn to the person next to you and smile, and there you will find Charlotte and Zaani".
Following the funeral, a private cremation will take place for her family.
Earlier this month inquests into their deaths were opened and adjourned until April.
Avon Coroner's Court heard the pair were found in a gully having "apparently fallen". The hearing was adjourned to allow further tests to be carried out.
CCTV footage released after they disappeared showed the new mother, from Clifton, in Bristol, leaving the hospital without a coat, wearing hospital slippers, carrying her daughter in a blanket.