Council suppliers could be paid in Bristol pounds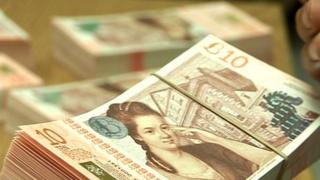 A survey to find out if businesses in Bristol are willing to be paid in a local currency for supplying services to the council has been completed.
The council, Bristol Credit Union and the Bristol Pound found there was a "great appetite" for the scheme but said there was "still work to be done".
The survey had 236 responses - with 20% interested in being paid, or part-paid, in Bristol pounds by the council.
The currency, which is on a par with sterling, was introduced in 2012.
The survey was sent out online and via social media, in October, to "gauge interest" from the city's local business community in the Bristol Pound.
'Growing interest'
Of those who replied, 11% were already Bristol Pound members, and 30% without accounts said they would consider becoming members.
Jason Thorne, from Bristol City Council, said the survey "demonstrated a growing interest" from local businesses in the Bristol Pound.
He said: "Evidence demonstrates that money spent with local businesses is more likely to be retained and re-spent within the local economy.
"The council will work with its suppliers and give them the option of being paid into their electronic Bristol Pound accounts."
Ciaran Mundy, from the Bristol Pound, said: "The council starting to pay suppliers would be a step-change for the scheme and the economy of the city region.
"There is still clearly work to be done so that more business owners understand why it's good for their business and great for the city as a whole when they get behind it."
More than 600 Bristol firms have signed up to the currency, making it the UK's largest alternative to sterling.
How the currency works
•1:1 exchange with sterling
•£1, £5, £10, £20 notes
•Run by Bristol Credit Union
•Payments in cash or online
•Funds guaranteed by the Financial Services Authority