'Silly' Bristol cycle lane criticised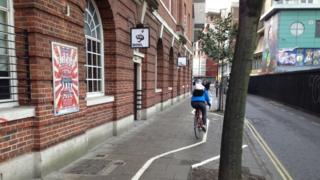 A temporary cycle lane, which weaves between trees on a footpath in Bristol, has been described as "silly" by a cycling campaign group.
The lane in Nelson Street was installed by the city council ahead of building work which has narrowed the road.
Bristol Cycling Campaign secretary, Martin McDonnell, said the markings were "confusing".
A council spokesperson said it was "not ideal" and the original lane would be reinstated when work was finished.
The lane, which was reported by the Bristol Post, is painted on the existing footpath.
Mr McDonnell said: "It's a bit silly. It's only a temporary thing but they've not really taken the way you ride a bike into consideration.
"It would be much better to have curves rather than tight corners.
"When you're having to share the space with pedestrians it's easier to ride in a straight line and not have to weave in and out of trees.
"It's confusing for everybody."
A Bristol City Council spokesperson said: "The cycle lines in Nelson Street are temporary because the work on the other side of the road has narrowed the width of the one-way carriageway.
"The original cycle lane will be reinstated once the work has been completed.
"It is not an ideal situation but we are monitoring the operation closely during the development work.
"These types of segregated cycle paths are intended to make cycling safer however there will always be times when a bit of common sense is needed.
"We always advise that cyclists travel at a speed that is appropriate for a shared path and that they take heed of pedestrians and other path users.
"We hope that all cyclists bear this in mind as they travel throughout the city."