Bristol to Bath marathon attracts thousands of entries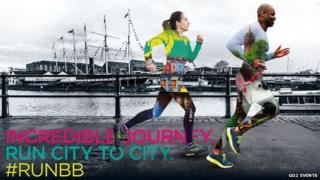 More than 2,600 runners have signed up to take part in a new marathon between Bristol and Bath.
The event will take place over a 26.2 mile course on closed roads between the two cities on 25 October.
The route will start in Bristol city centre and take in the Portway, roads through Hanham, Bitton and Kelston, and finish in Bath's Royal Avenue.
A spokesman said they were encouraged by the number of people who had signed up since entries opened on Boxing Day.
Jamie Warren, from GO2 Events, said: "After launching the event... the response we have received locally and from various running communities has been phenomenal.
"As we developed the concept of the Bristol and Bath Marathon, we knew that the race had huge potential, as it offers its runners something new that has not been experienced before in the South West."