Clifton Rocks Railway recreates 120-year-old sign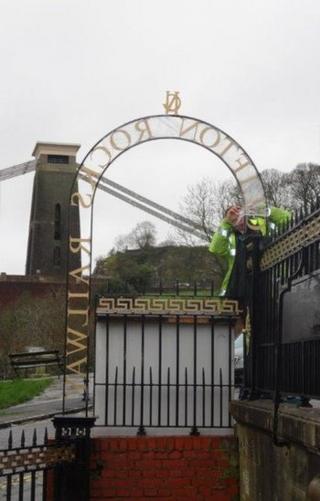 Supporters restoring the former Clifton Rocks Railway in Bristol have recreated a sign that stood outside the entrance to the top station over 120 years ago.
The design is based on a recently-discovered postcard of the scene shortly after it opened in 1893.
The railway was built inside the Avon Gorge cliffs and was designed to carry passengers from Hotwells up to Clifton.
Maggie Shapland, from the Clifton Rocks Railway Trust, said it was "another step" towards the site's preservation.
"We just had this awfully rotten board which said 'no car parking'," she added.
"It was tied on with rope and it had been like that for three or four years, because we weren't allowed to do any significant work.
"We have a postcard which shows a very ornate board over the top of the entrance.
"But the earlier postcards we had don't actually show that. It just shows the Clifton Rocks Railway archway, so we thought that would be great to actually put back."
The £3,000 sign, made by Bristol-based Dorothea Restorations, was specially commissioned by the trust and paid for by money from open days, group trips and donations.
Although popular after opening, steadily declining trade led to the Victorian railway's closure in 1934.
During World War Two, the site was used as a public air raid shelter and storage for barrage balloons.
It also became a secret transmission base for the BBC. The organisation continued to use parts of the tunnel until 1960.
After lying derelict for many years, the site was rescued by a group of volunteers who formed the Clifton Rocks Railway Trust.
The trust wants to restore and run the complex, which is 95% owned by the Avon Gorge Hotel, as a "sustainable visitor attraction".
Next month marks 10 years since trust volunteers started to clear the rubble from the site.