Bristol baby death inquest: Illness 'not treated as emergency'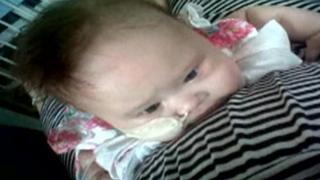 A mother begged doctors not to let her four-month-old baby die when paramedics failed to treat her condition as an emergency, an inquest has heard.
Lacey-Marie Poton died at Bristol Royal Hospital for Children after suffering a cardiac arrest at her home in the city in July 2013.
Her mother Emma Norley told her inquest at Avon Coroner's Court ambulance staff did not think anything was wrong.
She said she "begged" a cardiologist to save her daughter before she died.
The inquest heard Lacey-Marie was born with a hole in her heart and had previously undergone three operations at the hospital.
She became unwell shortly after having a stent fitted to improve oxygen flow to her lungs.
After an examination, Miss Norley and partner Jhonny Poton were told Lacey-Marie had gastroenteritis and she was discharged.
But 10 minutes after returning home, Lacey-Marie went into cardiac arrest and Miss Norley had to perform CPR on her while an ambulance was called, the inquest heard.
Hospital staff 'shouting'
"I told them I had just performed CPR but they did not seem to understand why I had had to," she said.
"Despite having told the operator on the phone that the patient was a baby, the ambulance did not seem to be properly equipped."
She said ambulance staff did not use blue lights on the journey.
Miss Norley said hospital staff were "shouting" at the paramedics when the ambulance arrived because they had not been told Lacey-Marie was coming.
The inquest heard an internal report by South Western Ambulance Service found the crew did not appreciate Lacey-Marie's "time critical" condition.
Bristol Royal Hospital's Dr Suzanne Dean said she could not explain what had caused Lacey-Marie's death and said that was "why we gave such broad treatment".
A post-mortem examination concluded her death was due to congenital heart disease associated with Down's Syndrome.
The inquest is expected to end on Friday.