Natural History Museum seeks 1980s competition winner from Bristol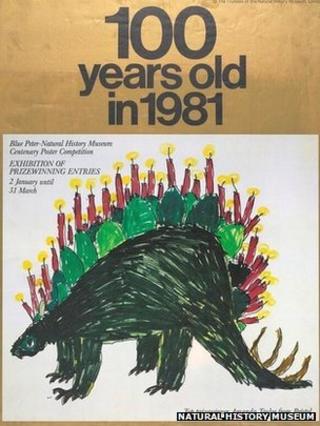 A Bristol girl who won a competition to design a poster in the 1980s is being sought by the Natural History Museum.
The competition, run in conjunction with BBC's Blue Peter, was for a poster design to mark the museum's centenary.
A stegosaurus drawn by Amanda Taylor, 14, was the top prize-winner but now the museum wants to "track her down".
Amy Freeborn, from the museum, said: "We've just unveiled a new stegosaurus skeleton at the museum and we thought it fitting we track this person down."
Other than the drawing, featuring a stegosaurus with birthday candles along its back, Ms Freeborn said they had very few other details.
"We came across the picture quite recently but the only information I have is Amanda Taylor from Bristol - and the year 1981," she said.
"I've sent out a tweet asking if anyone knows her, but it's obviously quite a vague request. I'm keeping my fingers crossed."