Colston Hall 'more in need' of Manchester £78m theatre cash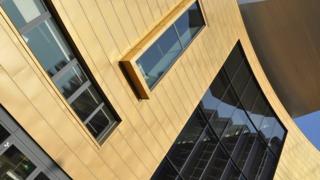 A £78m government pledge to build a new theatre in Manchester is misplaced and should be spent in Bristol, according to the city's assistant mayor.
Simon Cook is unhappy that Bristol does not have a "fit for purpose" concert hall while Manchester gets money for a venue he claims it "doesn't need".
His comments were made as the city council revealed plans to give £10m towards a £45m revamp of Colston Hall.
The venue is Bristol's largest and is in need of internal modernisation.
In 2016 it will celebrate its 150th year but fundraisers say it is currently "the only major concert hall in the UK not to have been redeveloped in recent times".
In 2009 about £20m was spent on redeveloping the building's foyer.
'Ridiculous'
Mr Cook, who also sits on the board of Colston Hall's trustees, said the council-owned building was "still locked in the 1950s" and, without considerable work, would face the threat of closure.
"It does rather annoy me that the chancellor throws £78m at Manchester for a theatre which frankly they don't need," he said.
"We are European Green Capital this year and we haven't got a concert hall that is fit for purpose.
"It means we can't bring in some shows we'd like to. The stage isn't big enough to hold a full symphony orchestra - this is ridiculous for a major European city."
Last month Chancellor George Osborne promised £78m to build a venue on Manchester's former Granada TV studios' site.
At the time, Manchester City Council - which has declined to provide a response to Mr Cook - said the venue would "play an integral part in helping Manchester and the north of England provide a genuine cultural counterbalance to London".
But Mr Cook believes there is greater need for "cultural infrastructure" in Bristol.
"The Arts Council has identified the Colston Hall as the primary need across England. The government really should be putting the money where it's most needed."
The Arts Council said it remained committed to long-term discussions with Bristol City Council and other stakeholders about the hall's future.