Bristol Residence arts group's plea to stay in Milk Bar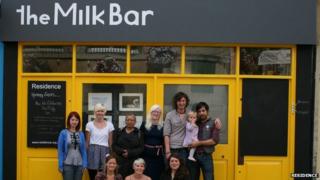 A group of artists has written an open letter seeking public support, after learning they could be evicted.
Residence took over the Milk Bar, in St Nicholas Street, Bristol, in 2009, under a former council scheme to bring empty buildings back into use.
The council has put the property on the open rental market, at £8,000-per-year for the lease, "to achieve the best value for the tax payer".
The group said the lease should not just go to the highest bidder.
James Stenhouse, from Residence, said they were "not asking for a freebie" because they could now afford to pay the market rate. But he said losing the building would "threaten their livelihoods".
"It's a short-term, small financial gain, rather than the proven long-term economic benefits that come from the continued cultural activity in the city centre," said Mr Stenhouse.
He said Residence "was continuing to revitalise" the area and "cultural value does convert to economic value".
'Prime location'
Assistant mayor, Simon Cook, said: "We are very supportive of Residence and the enormous contribution it makes to Bristol's thriving art scene.
"But the property is in a prime city centre location and we must realise the potential to achieve best value, now more so than ever."
He said the council was "fully committed to finding a solution, which accommodates the needs of both the collective and the council".
The deadline for the bids is 31 January.