River Avon death: Capsize spot 'had water hammering through'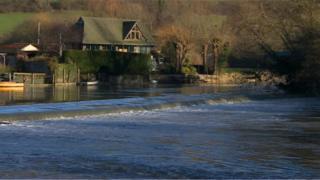 A stretch of river where a canoeist died had water "hammering through", fire crews have said.
Avon Fire and Rescue were called close to Swineford lock, on the River Avon, after four men in two canoes capsized.
Two got to the bank, a third was helped out, but the fourth man's body was recovered downstream by firefighters, after the accident on Saturday.
"In this area we've had a number of incidents over the past few years," area manager Mark Anderson said.
"The water is hammering through at this time of year with the amount of rain we've had, the sluice gates were opened on the weirs.
"This water on Saturday was boiling, it was running through incredibly quickly and unfortunately this is what caught these chaps out."
He added that although crews were specially trained to cope in this conditions, these types of rescues still put crews at risk.
"People do underestimate the power of the river, sometimes on a winter's day it looks lovely and the weather's been gorgeous this weekend, but you wouldn't want to be near that riverbank, because one slip and you're in," said Mr Anderson.
"I don't know if the canoeists were professionals or not, but they had an accident and this is what happens.
"Our condolences go to the family, but we've ended up with another tragedy."