Bristol Rovers takes supermarket to court over sale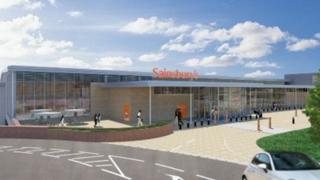 Bristol Rovers has confirmed it will be taking supermarket giant Sainsbury's to the High Court in a bid to force through the sale of its ground.
The club wants to move from the Memorial Stadium to a new purpose-built arena and had agreed to sell the ground to the supermarket.
But Sainsbury's has threatened to pull out of the deal.
The supermarket said the action was a "just a continuation" of current proceedings between the two.
Bristol Rovers new stadium would be located alongside the University of the West of England in Stoke Gifford and would be financed partly by the sale of the Memorial Stadium.
In a statement the club said: "Most of you will have read an article in today's edition of The Post detailing our intention to take Sainsbury's to the High Court regarding their contract to purchase the Memorial Stadium site.
"It is with regret that we have felt it necessary to revert to High Court action to complete our contract with Sainsbury's but it was felt that this course of action was necessary to allow us to invest in our new stadium at UWE."
The case is due to be heard in the High Court on 23 February.