Bristol Children's Hospital nurse 'did call for doctor'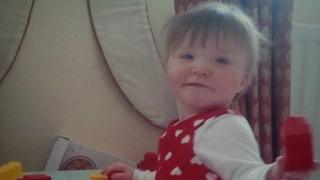 A nurse has told an inquest on a 16-month old girl who died after heart surgery at Bristol Children's Hospital, that she called for a doctor when the girl's blood pressure became abnormal.
Isabella Janew from Gloucester, who was born with a heart defect, died in 2013.
Cheryl Lewis told the court she turned a monitor away from the parents because their distress was distracting her from her nursing duties.
The inquest at Flax Bourton, near Bristol, is due to end on Wednesday.
On Monday, the girl's father Daniel Janew, told the inquest his family's requests for a doctor to be called when their daughter's blood pressure dropped were ignored by the nurse.
He said that instead the nurse turned the blood pressure monitor around, telling them it would "drive them crazy" if they continued to view it.
Isabella died in September 2013 after suffering a cardiac arrest following a procedure to widen a heart valve.
The inquest also heard from a consultant who described how he tried to restart the girl's heart by giving her cardiac massage.
It is the seventh inquest into deaths of children after cardiac surgery at Bristol Children's Hospital.
An independent inquiry into the deaths of children following heart surgery at the hospital was set up last year by medical director of the NHS Prof Sir Bruce Keogh.