Animal cruelty: Rosalind Cormack given suspended jail term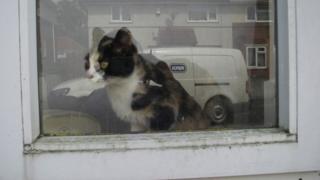 A women has been given a suspended prison sentence after RSPCA inspectors found eight dead pets at her Bristol home and had to put down seven more.
Rosalind Cormack, 58, left 16 pets including cats, rabbits and a dog, trapped inside the property, the city's Magistrates' Court was told.
Neighbours alerted the RSPCA after Cormack did not return home for weeks.
She admitted three offences under the Animal Welfare Act 2006 and received a 12-week term, suspended for 12 months.
Police forced entry after an RSPCA inspector discovered the head of a dead cat in a wheelie bin outside, the court was told.
Officers noted an "unbearable stench" and found three dead cats, a dog, two rabbits and a hamster.
Five cats and three kittens were discovered alive but in a poor state of health. All but one later had to be put down.
Tim Pursley, chair of magistrates, said the animals had suffered a "high degree of distress" and added there was a "prolonged" period of neglect.
Cormack was banned from keeping animals for life and ordered to pay £1,000 costs.
Her solicitor John Stokes said his client had been depressed following the death of her husband in 2007.
"She is truly remorseful so far as her actions are concerned."